Men's Health Month
June 6, 2022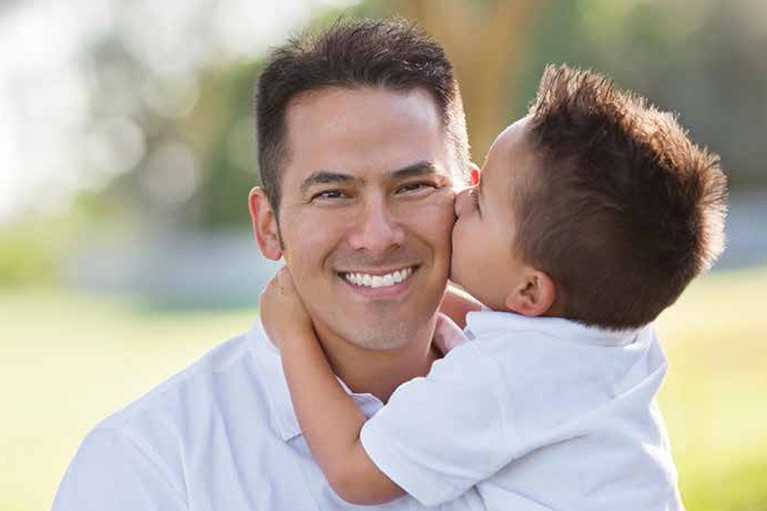 June is Men's Health Month, and the best time to remind all the important men and boys in your life of the importance of caring for your health. After all, good health starts at home which couldn't be truer for men in the United States who according to the CDC, die 5 years on average earlier than women and at higher rates from the three leading causes of death, heart disease, cancer and unintentional injuries. You may be wondering why this is so. For starter, about 40.5% of men in the U.S. over the age of 20 are obese. In addition, only 57.6% of men age 18 and older meet the federal physical activity guidelines for aerobic activity. As summer starts and you go about your annual summer activities such as exploring the great outdoors or spending more time with family and friends, take the time to think on the things you can do to improve the health of you and all the men in your life.
A Man's Heart
Did you know that the leading cause of death for men in the United States is heart disease? According to the CDC, 24.3% of male deaths in 2018 were due to heart disease — that's about 1 in every 4 male deaths. Furthermore, half of the men who die suddenly of coronary heart disease had no previous symptoms. This is why heart disease is often called the "silent" killer.
Hypertension, one of the major risk factors for heart disease, was found in about 47% of men throughout 2013 – 2016. This in addition to other risk factors such as diabetes, obesity, poor diet, excessive alcohol use and physical inactivity are more prevalent amongst men as compared to women, and speaks to the high number of deaths to heart disease among men. Of course, heart disease has long been a health concern for all genders and groups in the U.S., but men should especially be concerned as they are more likely to engage in behaviors that further increase their risks such as binge drinking.
Raise the Bar and Not the Glass
Excessive drinking is associated with significant risks to men's health and safety, and naturally these risks increase with the amount of alcohol consumed. According to the CDC, almost 59% of men report drinking alcohol in the past 30 days compared with 47% of adult women. Men are also two times more likely to binge drink than women with about 22% of men reporting binge drinking 5 times a month, with about 8 drinks per binge.
In 2019, 7% of men had an alcohol use disorder compared with 4% of women. With this, men are more likely to be hospitalized due to injuries sustained within which alcohol was involved. More than three-quarters of deaths from excessive drinking are among males, totaling more than 140,000 deaths each year in the U.S. The prevalence of alcohol abuse amongst men makes them more at risk for several diseases especially heart disease and cancer – the two leading causes of death among men in America.
If this information alone isn't enough to scare you – excessive alcohol consumption is also known to affect men's sexual and reproductive health. This happens through alcohol's interference with testicular function and male hormone production resulting in erectile dysfunction and infertility. Alcohol use by men also increases the chances of engaging in risky sexual activity including unprotected sex, sex with multiple partners, or sex with a partner at risk for sexually transmitted infections.
Get to Know Your Prostate
Aside from non-melanoma skin cancer, prostate cancer is the most common cancer among men in the United States. The prostate is a part of the male reproductive system which is responsible for the production of fluid that mixes with sperm from the testicles to make semen. For men, cancer is an especially elusive disease with many men going undiagnosed for several years. This is because the greatest risk factor for prostate cancer is age. This means that all men are at risk for prostate cancer regardless of their health status. Quite often prostate cancer has no visible symptoms which allows it to go undiagnosed for so long, especially men who do not get routine prostate exams.
The good news though is that prostate cancer, due to modern medicine, is highly treatable and rarely deadly if treated early. Most prostate cancers found by screening are small and slow growing, which is why routine screening is critical to the survivability of prostate cancer. The only way to know for sure if there is an abnormal growth found during a screening is through a biopsy. However, this is but a small inconvenience as compared to painful late-stage cancer treatment and the costs associated with treating advanced prostate cancer.
Be a Healthy Man
Although the health statistics for men can seem quite dim for men's health, there are several things that you can do to start on your health journey. If you are one of the many thousands of men in the U.S. who are obese, or suffer from chronic disease such as hypertension and diabetes, its important to maintain a diet and exercise program that will keep your symptoms under control. This can be as simple as working more fruits and vegetables into your diet. Diet and exercise are especially critical for reducing your chances of getting heart disease. In addition, you should take steps to keep on top of your heart health such as by monitoring your blood pressure, limiting alcohol, quit smoking and lowering your stress levels.
If you think you may suffer from alcohol or substance addiction, it's important you discuss with your health care provider ways for you to address your addiction and other risky behaviors such as binge drinking. Getting over addiction is not easy. However, working towards limiting substance abuse especially alcohol consumption is important in reducing risks for other health disease such as heart disease and cancer.
Lastly, if you have a history of cancer or have any of the major risk factors for cancer, it is important to get screened annually. For men, prostate cancer screenings are recommended routinely once you reach the age of 50. However, it's never too late to discuss with your doctor your risk factors and whether or not you may need to be screened earlier for cancer.
Get Your Annual Wellness Exam
Perhaps by now you're thinking that health never seemed more complicated. However, did you know that much of your health concerns can be monitored and addressed during your annual wellness exam? In the unlikely case that you've never had one, or maybe it's just been a while since your high school sports career, the annual wellness exam is a great way to get a full status report on your risk factors and behaviors. If you typically skip your routine exams just know that you're not the only one, with about a quarter of adults in the U.S. skipping routine exams and only going to the doctor when needed.
If you're one of the millions of Americans who hesitate on getting your annual wellness exam, consider the fact that it can often mean the difference between catching a disease early while it is still treatable or reversable, such as heart disease, diabetes and cancer. In addition, your annual wellness exam includes prevention as well as access to the tools to achieve a healthier lifestyle such as:
Blood pressure readings
Cholesterol screenings
Vaccinations
Medications
Weight loss and weight management
Depression and mental health support
Help with alcohol and substance abuse problems
Tobacco cessation
Diabetes screening and management
Cancer screenings
Bloodwork
Osteoporosis screenings and more
And probably the best part is that most health insurance carriers (such as StayWell) cover this service at most or all of the cost, making it more affordable for you to stay on top of your health.
Still not sure how to get started on your health journey? If you're still on the fence, or still chanting one of the American Heart Association's Top 10 reasons men put off doctor visits, such as "I don't have a doctor" or the classic "there's probably nothing wrong," perhaps you can get your start with just a bit more leisurely reading at the following resources below:
Sources: