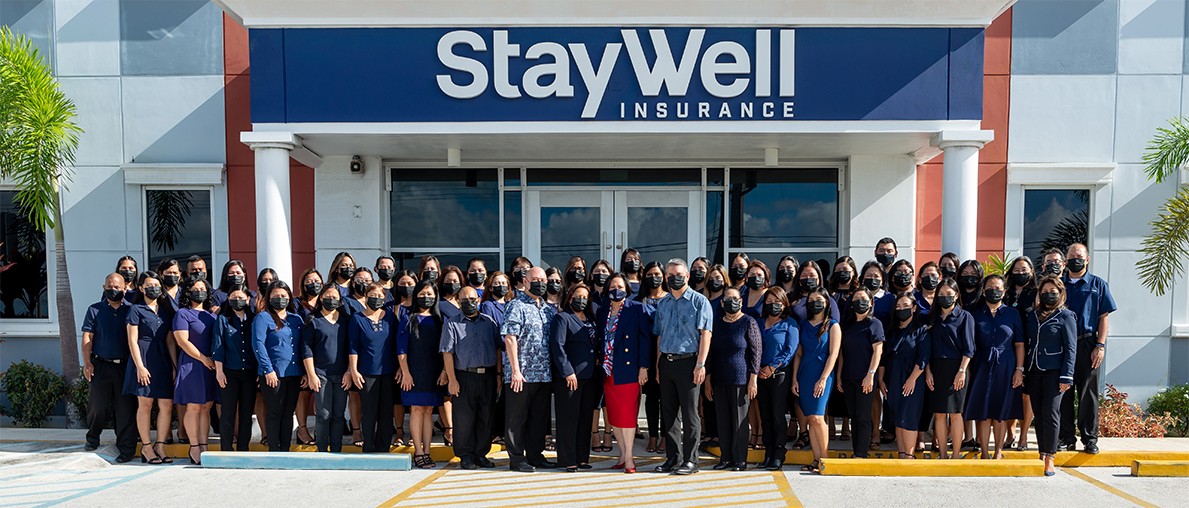 See how far we'll go
StayWell Insurance was founded in 1982 and primarily offered health insurance to the Government of Guam. In the course of the years, StayWell Insurance expanded to offering health insurance to private businesses on Guam and the CNMI. After more than 30 years and 20,000 members strong StayWell had established offering other lines of insurance to include Auto Insurance and Home Insurance.
All policies are underwritten by Island Home Insurance Company, Inc.
StayWell and Island Home Insurance together provides protection, strength and stability. We are committed to serving you beyond expectations.
StayWell Milestones
1982

StayWell Plan offered to the Government of Guam employees

1988

DBD & Associates is incorporated and becomes the exclusive Third Party Administrator for Zurich Insurance

1989

StayWell officially opens its doors for business at the Ada's Commercial and Professional Center. Shortly after, StayWell extends its line of business to offer personal auto and home insurance

1992

StayWell opens a Saipan office offering health insurance to private and government employees. In the same year, StayWell opens a claims processing unit (DBD Manila) in Quezon City, Philippines to support the Guam office.

1993

StayWell relocates to 430 W Soledad Ave, Hagatna

2000

StayWell acquires Guam Health Shield's medical and dental contract for the Government of Guam market

2001

DBD Manila administers FHP's claims and HPM claims

2004

DBD Manila in Quezon City, Philippines official name change to StayWell Guam, Inc.

2006

StayWell Informations Systems, Inc. takes over DBD Manila to continue claims processing for Guam office

2008

IHIAC, Inc. established and purchases Zurich Insurance (Guam), Inc.

2009

Island Home Insurance Company acquires Zurich Insurance Guam, Inc.'s book of business

2015

Chen Yu Mack becomes the sole owner

2016

Groundbreaking at Yu Commercial Building in Maite.

2018

StayWell reveals its new logo & brand and moves into the Yu Commercial Building in Maite. StayWell Guam Diabetes Foundation is launched.