Keep Off the Holiday Pounds
November 11, 2021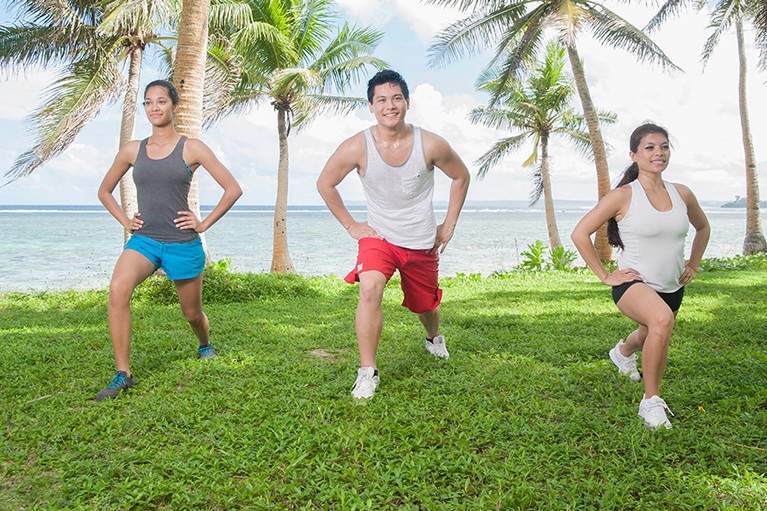 It's that time of year again when the Marianas dusts off their Christmas trees and breaks out the fiesta tables to come together as a community to celebrate the many holidays ahead. Of course, the holidays wouldn't be complete without seasonal dishes that are whipped out on special occasions such as Thanksgiving Turkey, Holiday Ham, Mashed Potatoes and Pumpkin Pie so keeping that holiday weight gain can be a real challenge for many on the islands. It's also important to remember that those holiday pounds can add up over the years and amount to trouble in the future. The holiday season is the perfect time to think about your health goals for the year ahead — no need to wait for your new year resolutions. Follow these great tips to jump start your health journey this holiday season.
Take a Hike
Being active might be a tall order for our snowed in family living in the mainland, but here in the islands there is little to no excuse to get out and get active all year round. As the wet season comes to a close during the holidays this is a great time to go out and experience the lush beauty that our islands have to offer. Walking and boonie stomping is a great way to stay active this season and since school and work is out, perhaps change things up this year with a family outing to one of Guam and the CNMI's many scenic areas.
If the weather has got you home bound don't forget that the mall can be a great place to go for walks indoors while also getting that last-minute holiday shopping in. Take a few extra laps around the mall and walk the length of the mall before going into any stores. These are great ways to get your steps in without feeling like you are exercising at all!
Eat More Veggies
Balance out those devilishly delicious holiday dishes with healthy foods such as fruits and vegetables — and no we aren't talking about fruit salad! Make sure that your island fiesta table has a wide variety of vegetable dishes and consider alternatives to fried foods such as baked or grilled variations. Above all don't forget to limit your portion sizes and take your time while you eat to avoid overeating.
Create New Holiday Traditions
Your holiday season doesn't have to involve just eating with family. Take the time to plan fun active games for you and your relatives. Taking group exercise classes, or finding fun and active group activities are sure to create new healthy traditions to enjoy for many more years into the future.
Changing your holiday habits can go a long way in helping you and your family lead happier and healthier lives, so this holiday season let's all enjoy our time with friends and family in new and healthy ways.
Source:
Centers for Disease Control and Prevention | Healthier Holidays in 1-2-3!