Contact Lens Health Week
August 5, 2021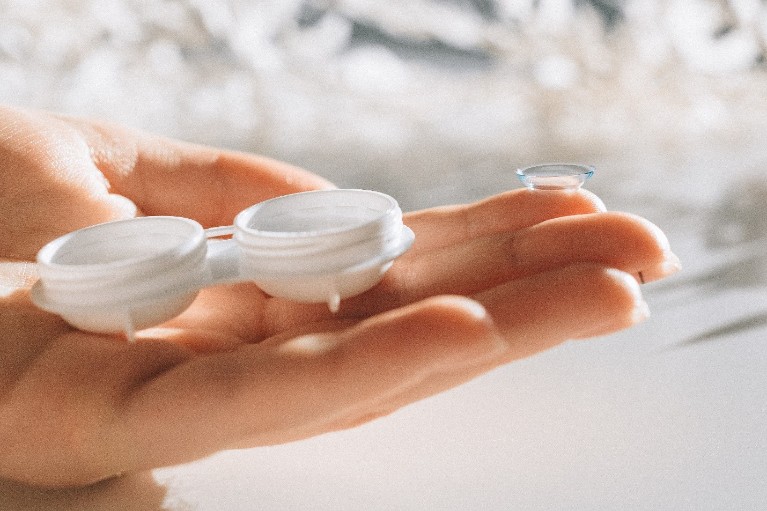 August 17-21 is Contact Lens Health Week, and perhaps for habitual contact lens users, care and maintenance for your second pair of eyes may seem like second nature, but many may be surprised to find that 40% to 90% of contact lens wearers do not properly follow the care instructions for their contact lenses according to the Centers for Disease Control and Prevention (CDC). Although you may have gotten along just fine while ignoring the fine print on that saline solution from the drug store, there are some serious risk factors associated with improper care of contact lenses. Serious eye infections such as Keratitis can lead to blindness, while 1 out of every 500 contact lenses suffer from eye infections per year. In a 2014 study, Keratitis alone led to 1 million doctor and hospital visits, at a cost of $175 million to the U.S. healthcare system. So, what can you do keep those pretty eyes out of the clinic? You can keep your eyes healthy by following these tips:
Lights Out, Contacts Off
Sleeping while wearing contact lenses has been shown to cause up to eight times greater risk of an eye infection. So, before the lights go out at night be sure to take your contact lenses out and follow proper care routines for reusable lenses.
Keep Your Filthy Paws off Those Silky Lenses
Always wash your hands with soap and water before handling lenses and dry your hands well with a clean cloth before touching your contact lenses every time. Our hands naturally come into contact with numerous amounts of bacteria and can easily spread infectious organisms into your eye sockets through your contact lenses so it's best to keep those hands squeaky clean when handling your lenses.
Infectious When Wet
Water can introduce germs to the eyes through contact lenses so it's best to remove them before swimming and avoid showering in them. And if you really need your eyesight below the depths, use prescription swimming goggles and diving masks.
Disinfect, Rinse, & Repeat
For reusable lenses be sure to properly clean them each time you remove them by rubbing and rinsing your contact lenses with contact lens disinfecting solution. Never "top off" your solution and only use fresh contact lens solution in your case each time. And of course, use only contact lens solution recommended by your doctor.
Just in Case, Clean Your Case Too!
Clean your contact lens case by rubbing and rinsing it with contact lens solution. Cases should be stored upside down with caps off after each use. Be sure to replace your contact lens case at least once every three months.
Contact Your Contact Lens Provider
Be sure to communicate with your eye care provider to discuss proper wear and care habits to prevent infections. It's recommended that contact lens users have annual check ups even if you're not in need of new lenses. And of course, remove your lenses and contact your doctor immediately if you experience pain, discomfort, redness, or blurred vision due to your contact lenses.
Eyes on Contact Lens Care
If you're a contact lens user don't wait until it's too late to keep your eyes healthy. Hindsight may be 20/20, but your seriously infected eyeballs may not be so high definition. If you or perhaps someone you know may be a bit lackluster on contact lens care then you may consult the CDC's online guide to this and more important facts to provide clarity in your eye care.
For StayWell members with Vision benefits in your group health plan, you may also contact our customer care department to be connected with key resources regarding your coverage including how to effectively utilize your $150 annual maximum, and eye care providers in your area so that your eyes can stay well too!